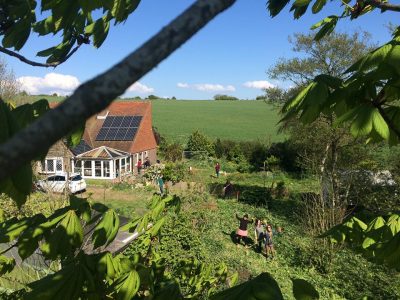 South Downs Eco Co-operative was formed in December 2012. The founding members have lived and worked in different global contexts. Our members share the desire to transform our way of living and working together. In May 2014 we bought a house with three hectares of beautiful downland in a hollow near Brighton, on the way to Devil's Dyke. Our overall aim is to explore alternatives for improving the quality of life and to challenge the thinking and actions that threaten our rights and future as human beings on the planet.
Our long term goals are to:
Contribute to multiple forms of emancipatory culture, creative political art and social movement
Establish the site as a centre for culture, education, research and analysis
Create safe spaces for personal growth and organisational learning for ourselves and others
Build livelihoods and exchange systems that connect diverse communities locally and beyond
Develop a permaculture system for the land connecting productive activities, the biosphere and community education
Establish a small eco-housing cooperative based on relational autonomy, voluntary simplicity and creative architecture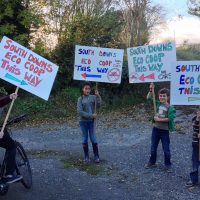 South Downs Eco Cooperative members are committed to equality, freedom, solidarity and justice. We embrace horizontal power and agency as forms of positive energy in transforming ourselves and the world around us. These core principles come from our diverse experiences in green politics, community development, counter-colonial feminism, anarchism, queer politics, anti-racism and the peace movement. Our intention is not to create a "model project" or "gated community". We want to create a space that is welcoming, open to sharing and collective action. We believe in learning by doing, together.
We don't assume we've got all the answers. We're interested in contributing to creative collaboration through networks. We enjoy an irreverent sense of humour, we're not afraid of making mistakes or tussling out issues by speaking our minds, our uncomfortableness or our 'political incorrectness'. We are trying to think beyond current assumptions, and engage in creating small liberational spaces. Because of this, we work through dialogue, conversation, flexible planning, experimentation, reflective processes and consensus decision-making.
You can join our Facebook group https://www.facebook.com/groups/southdownseco/
Our WordPress site https://southdownseco.wordpress.com/
Or contact us via email info@southdownseco.coop