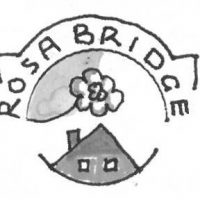 Rosa Bridge is looking for a new member – info here:
We are looking for a member for our small, fairly new housing co-operative in Tarner, close to Queen's Park, from the start of April 2018 (flexible). We would like to live with feminist queer people. We are particularly interested in applications from POC and trans people (we intend this term to be used in its most inclusive sense).
It is a lovely 5-bedroom house with a large garden for the centre of town. The house is on the small side but with a good-sized communal lounge and kitchen; the bedroom available is a small double.
We are currently a mix of queer cis women and non-binary people. We all have quite different lives so we're often not in at the same time but we try to do things we enjoy together, like chatting in the kitchen, eating together, watching Buffy, and other stuff. We want to create a home and live with people we care about and want to spend time with: for that reason our joining process involves several meetings and time spent together.
We share things communally: food, books, DVDs, tools and such. The communal cooking is vegan, but it isn't a strictly vegan or vegetarian space. We each cook once a week for the house, and we have a cleaning rota to keep things tidy. We try to do things in a sustainable and ecological way. Alcohol is drunk in the house but some people are alcohol-free.
As a housing co-operative we are responsible for its management, as well as ongoing maintenance of the house itself. At a minimum we have monthly meetings and a monthly work day, to keep on top of these tasks. You do not need to have previous knowledge or experience of co-ops but we are looking for someone with an active interest and a willingness and ability to commit time to it.
The rent is £348 pcm plus £65 for bills. There is no deposit. It is a one person, single tenancy. We welcome people on benefits.
Accessibility: the house is up a steep hill, 10/15 minutes up or down a hill to bus stops and shops. There are 3 shallow but awkward steps to get into the house, and doorways are slim. The bedroom is on the ground floor as are all communal areas and there are no steps across the ground floor. Lighting is energy-saving bulbs across the house. Although we are unfortunately not able to make huge structural changes to the house, we are very happy to make other alterations as needed.
The first stage of our joining process is a meeting where we will show you around and tell you about the co-op. This will be for up to 90 minutes on Saturday 3rd March at 11am. Interviews are planned for the weekend of 17th/18th March, but this is yet to be confirmed. If we like you at the interview stage then you will be invited to hang out with us in a more informal way – this would take place over the weekend of 24th – 25th March, again yet to be confirmed. If everything goes well at the hangout you will then be formally invited to join the co-op and could move in on or after 1st April.
If you are interested please get in touch at rosabridgecoop@notmail.org and we'll send you directions. If you have any access requirements of any type (application process, attending the meeting day etc), please just let us know!